Regular price
Sale price
$50.99
Unit price
per
Sale
Sold out
Wheat Germ is the small, nutrient rich center of a wheat kernel, packed with minerals and trace elements. A true "superfood"! Lekithos® Organic Wheat Germ Flakes are an excellent source of manganese, phosphorus, thiamin, magnesium, zinc and a good source of folate, iron, protein and dietary fiber. Lekithos® organic plant proteins are single ingredient products always made without the use of carriers, fillers, artificial ingredients, additives, preservatives or chemical solvents.
Soy Free, Dairy Free, Fat Free, No Sugar Added
8g Protein, 3g Dietary Fiber, Vitamin B1
USDA Organic, Non-GMO Project Verified, Certified Vegan
Raw Material Origin: Germany
SUGGESTED USE
Add up to one serving (28g) to your favorite beverage, cereal, pancakes, muffins and yogurt. Keep refrigerated after opening!
Nutrition Facts

8 servings per container
Serving Size
2 Tbsp. (28g)
Amount Per Serving
Calories
90
% Daily Value*
Total Fat 0g
0%
Saturated Fat 0g
0%
Trans Fat 0g
Cholesterol 0mg
0%
Sodium 0mg
0%
Total Carbohydrate 14g
5%
Dietary Fiber 3g
11%
Total Sugars 3g
Includes 0g Added Sugars
0%
Protein 8g
16%
Vitamin D 0mcg
0%
Calcium 20mg
2%
Iron 3mg
15%
Potassium 350mg
8%
Thiamin 0.4mg
35%
Folate 60mcg DFE
15%
Phosphorus 330mg
25%
Magnesium 100mg
25%
Zinc 5mg
45%
Manganese 6mg
260%
*Percent Daily Values (DV) tells you how much a nutrient in a serving of food contributes to a daily diet. 2,000 calories a day is used for general nutrition advice.
View full details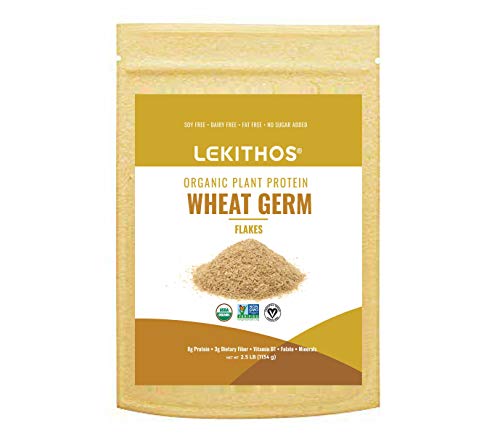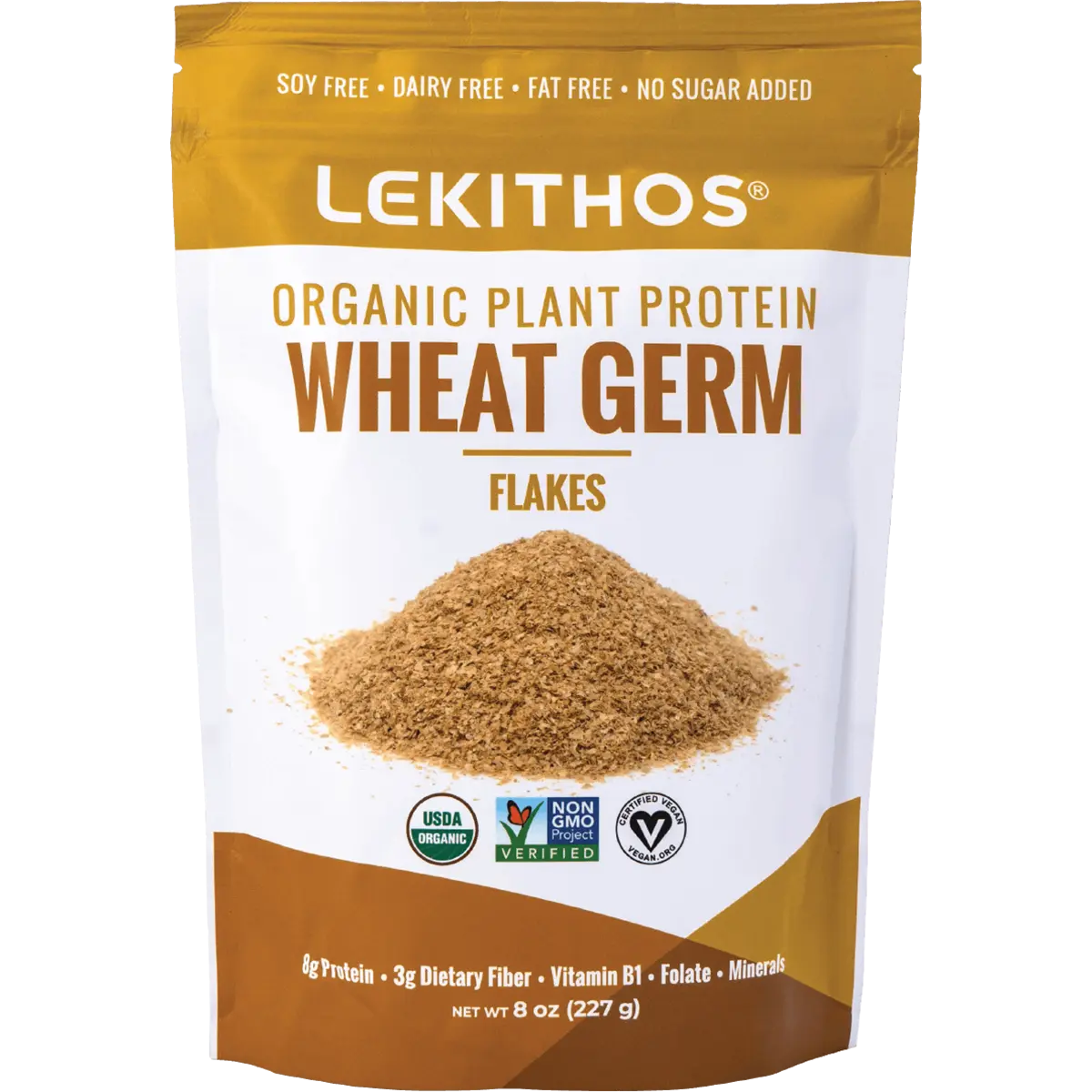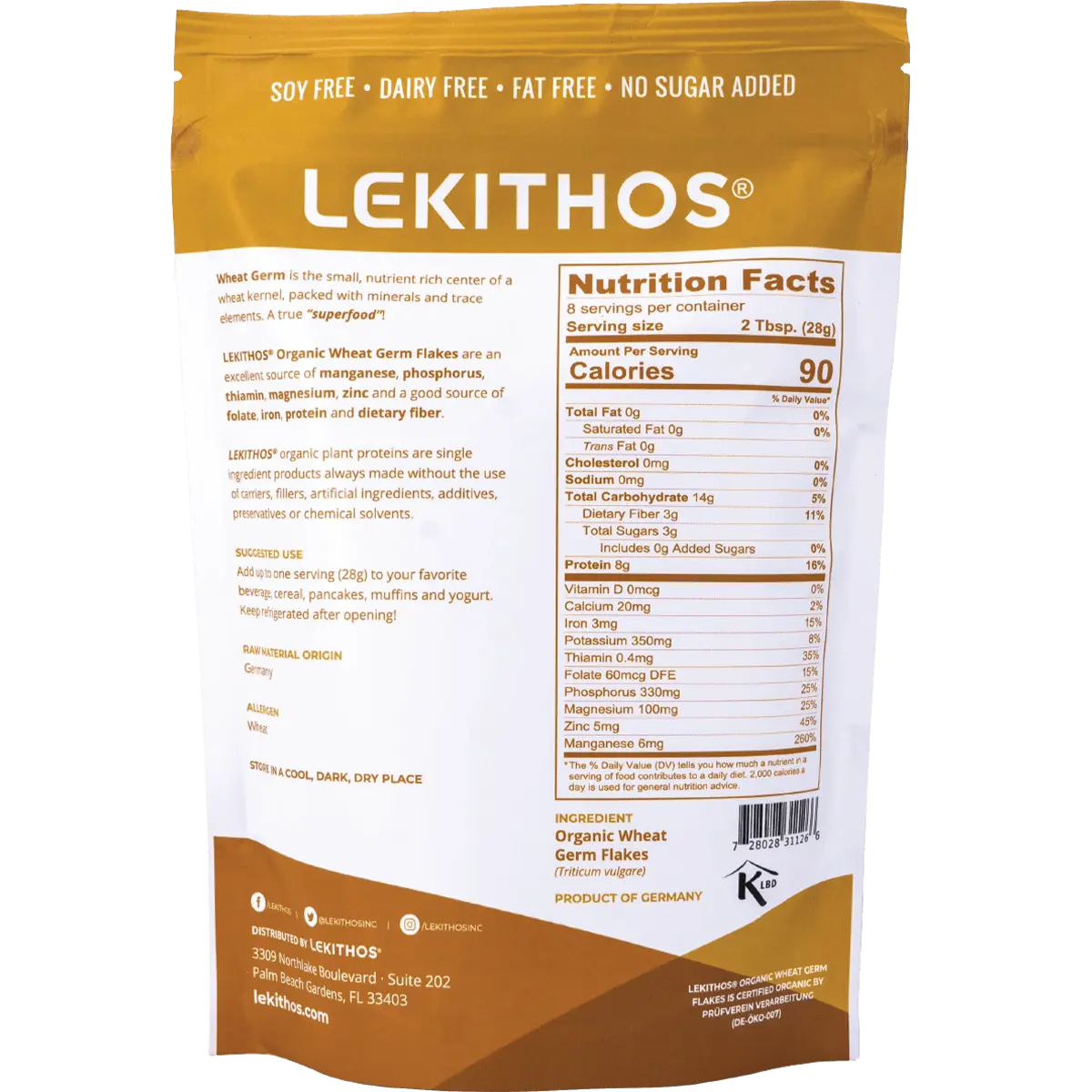 organic wheat germ
I have been using this product for some time now and find it to be a little dusty but very good. The cost of shipping is a little high compared to the other place I was buying it from.
Exclusive Product
As a health-conscious individual, I have for decades sought to find organic wheat germ. To the best of my knowledge, Lekithos' Organic Wheat Germ Flakes is the only source of organic wheat germ available.
Misleading
This product is misleading.
The nutritional label is based on weight not on measurement. 2 TBSP serving is half, 14g. You need 1/4 cup for the 28gs. Company refused to acknowledge or look into changing this based on technicallty that a US tablespoon weighs 14g. However, then went on to say "a cup isn't always a cup" meaning that a cup of one thing may weigh different than a cup of another.
EXACTLY. That's what I'm saying to you. So in this case you
2 tablespoons isn't always 2 tablespoons. If you want a 28g serving reflecting the nutritional panel you need 1/4 cup.
Did not like the company's response. They're selling this common food at a premium because it's organic and appears nutritionally dense compared to the same 2 tbsp serving that other brands have. But this is wrong. Bob's Red Mill & Kretschmer are both non-GMO and are 1/2 to 1/3 of the price
Really good!
Never had wheat germ before, read it was a great source of zinc. Love the consistency...made a porridge with it and it was somewhere between oatmeal and grits but lighter with a naturally sweet mild taste. Some vanilla, maple syrup, fruit, a bit of Earth Balance and soymilk and it was great. Looking forward to doing more with it, seems fairly versatile.
Fermented wheat germ and bread is great!
Have started to enjoy your wheat germ by fermenting it and then using it as a starter for a really nice bread that has half the carbs
Stan