Regular price
Sale price
$24.99
Unit price
per
Sale
Sold out
Lekithos® Sunflower Lecithin Powder is Non-GMO Project Verified, Certified Vegan, and Soy Free. This product is 100% pure – made without the use of artificial preservatives, additives, flavors, colors and carriers. Deoiled sunflower lecithin is an abundant source of essential fatty acids and phospholipids like phosphatidylcholine, it is water dispersible and features increased functionality with a neutral flavor.
The most common applications are as a dietary supplement (intake as directed by your physician or health care provider), in baked goods, recipes for shakes, smoothies, Liposomal Vitamin C, sauces, spreads, dressings or any product requiring an emulsifier.
Supplement Facts

65 servings per container (16oz)
Serving Size
1 Tbsp. (approx 7g)
Amount Per Serving
Calories
35
% Daily Value*
Total Fat 3.5g
6%
Saturated Fat 1g
5%
Trans Fat 0g
**
Polyunsaturated Fat 0g
**
Monounsaturated Fat 0g
**
Cholesterol 0mg
0%
Sodium 0mg
0%
Total Carbohydrate 1g
<1%
Protein 0g


Phosphorus 210mg
21%
Phosphatidylcholine 1560mg
**

Phosphatidylinositol 1420mg
**
Phosphatidylethanolamine 665mg
**
Phosphatidic Acid 315 mg
**
Linoleic Acid (Omega-6) 4340mg
**
Oleic Acid (Omega-9) 1120mg
**
Not a significant source of fiber, sugars, vitamin A, vitamin C, calcium or iron. *Percent Daily Values (DV) are based on a 2,000 calorie diet. Your daily values may be higher or lower depending on your calorie needs. **Daily Value (DV) not established. Indicated values are minimum values.
View full details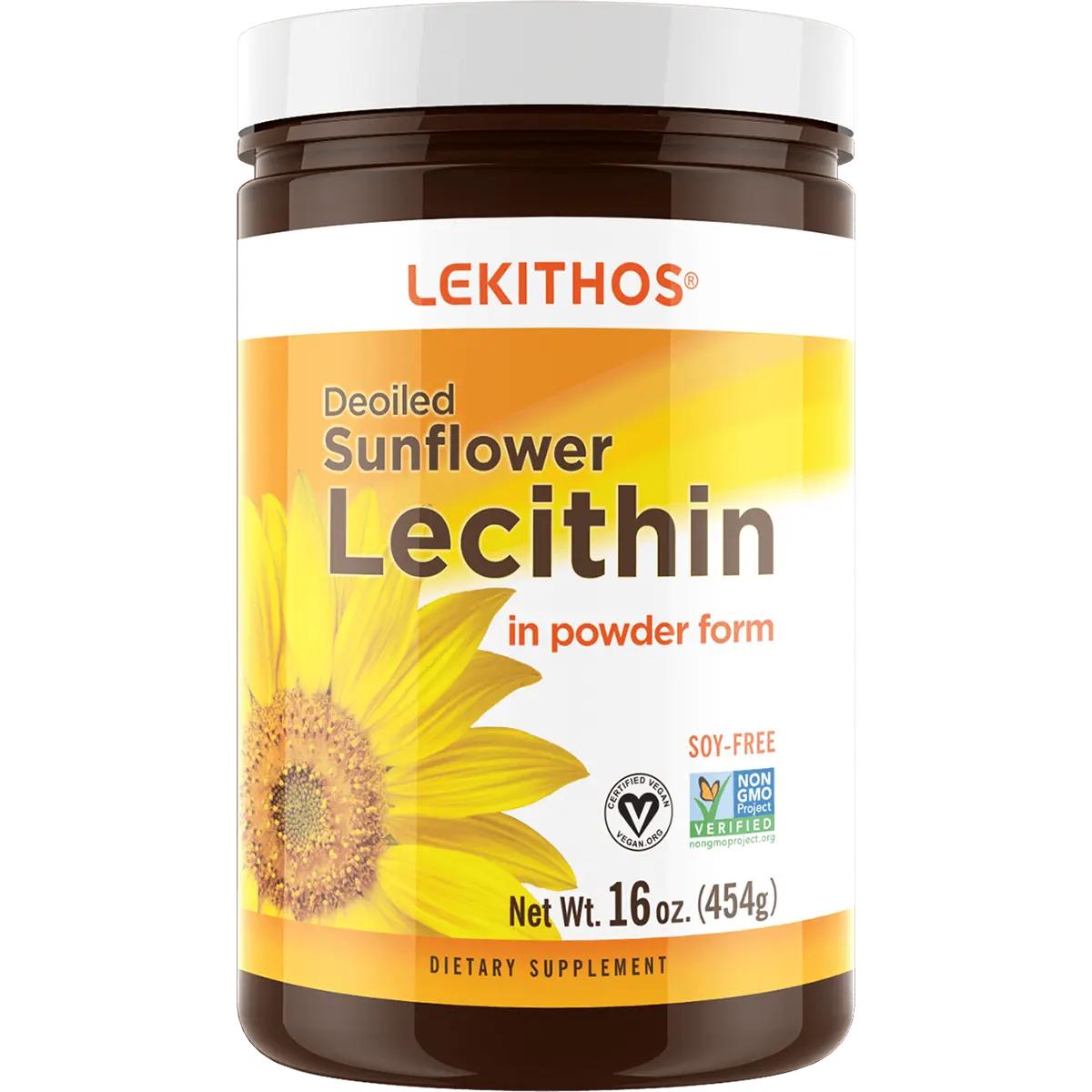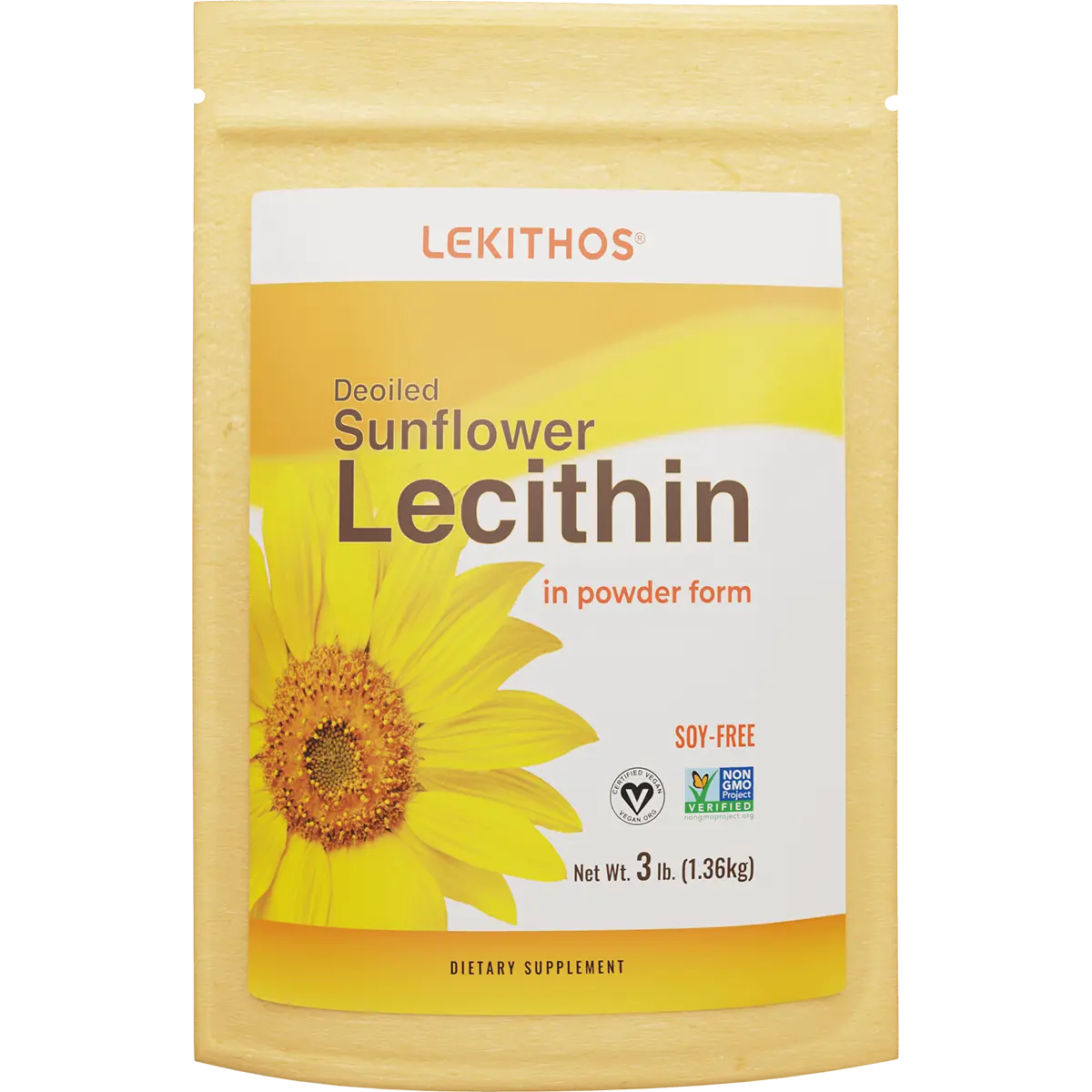 Great product
Fast shipping, easy to use, healthful
Products' Shipping Package
I've made a couple orders from Lekithos so far and the shipping paclaging/boxes has been unsatisfactory. The shipping boxes were torn, beaten up, and the contents inside were visible….and may possibly fall out. Since the individual products I order are in some sort of thick paper packaging, I worry those paper-type may tear and spill/waste the powdered products I buy. The individual paper-type products were loosely placed in the shipping boxes without proper sturdy/thick packaging so that in case the shipping box tear then the contents of my order will remain intact. However, it would be even better if the shipping boxes itself were sturdy to begin with and hold up in the harsh shipping environments so none of my order will fall out or go missing. I have pictures and videos of my orders just in case Lekithos wants to know what I mean.
Lekithos, please use better quality shipping boxes that withstand the harsh shipping environments plus considering the weight of your products in those shipping boxes (more than 12lbs). Let's avoid future problems, delays, and possible wasteful spills. Looking forward to order more from Lekithos if this issue is resolved.
Awesome
I to homeopathic thyroid so I couldn't do Soy Lethicin and then I found Lekithos with their awesome Sunflower Lethicin Lethicin is known to help lower your cholesterol levels which I needed / I discovered how to make mock deviled eggs without the yellows and they taste fabulous so I can have deviled eggs whenever I want without cholesterol issues And now during the times of Covid I make what I call a power egg which is onions garlic horseradish And of course my tablespoon of Lethicin With some olive oil and I stuffed my eggs with this mixture now which helps boost your immune system / So Sunflower Lethicin is a staple to my daily diet
We like the idea
We have used Lekithos lecithin for years. My wife prefers the granules ("pebbles") over the powder, and I choose the organic liquid, because of its organic rating. But deoiled serves us well. I'd like to learn the advantages of this form. Thanks for keeping it available. We assume that limited product is due to the tragic Eastern Europe war. Best wishes!
Great product
I noticed a big difference with the Lekithos Deoiled Sunflower Lecithin vs other brands' lecithin. Far less clumping and much easier to handle and mix into other liquids for drinks etc